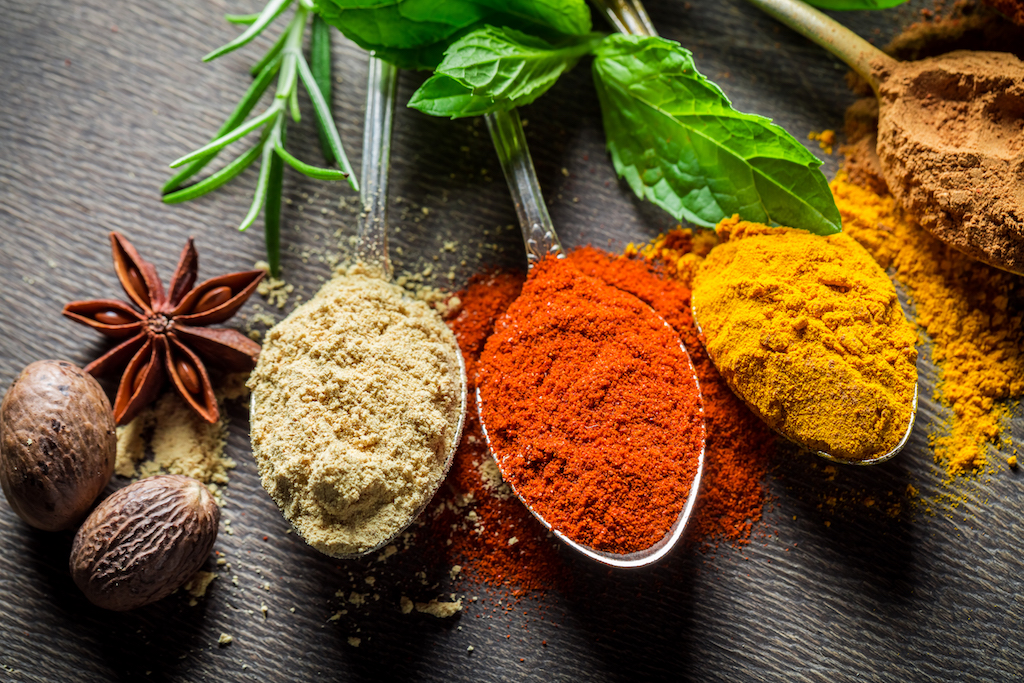 A dash of this and a shake of that can add interest and variety to the simplest of dishes – provided you match the right herb or spice to the right dish!
Herbs and spices also effectively replace salt as a flavoring in many dishes which is good news for those who need to cut their sodium intake. Herbs and spices contain negligible sodium and calories in the small quantities usually used for cooking.
Purchasing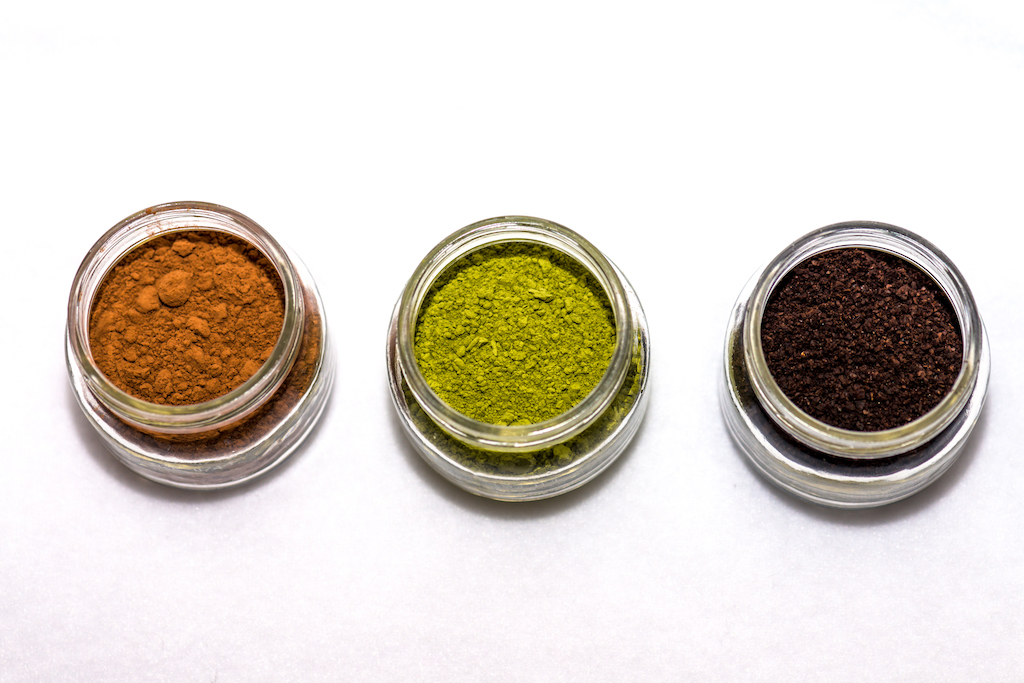 Most herbs and spices are available dried. You can make sure they are fresh by sniffing for a strong aroma. Because they lose their flavor if stored for a long time, it's best to purchase only small amounts for short-term use.
Many fresh food markets now stock a selection of fresh herbs. Fresh herbs have unique aromatic qualities which enhance the flavor of a dish more richly than many dried herbs.
Storage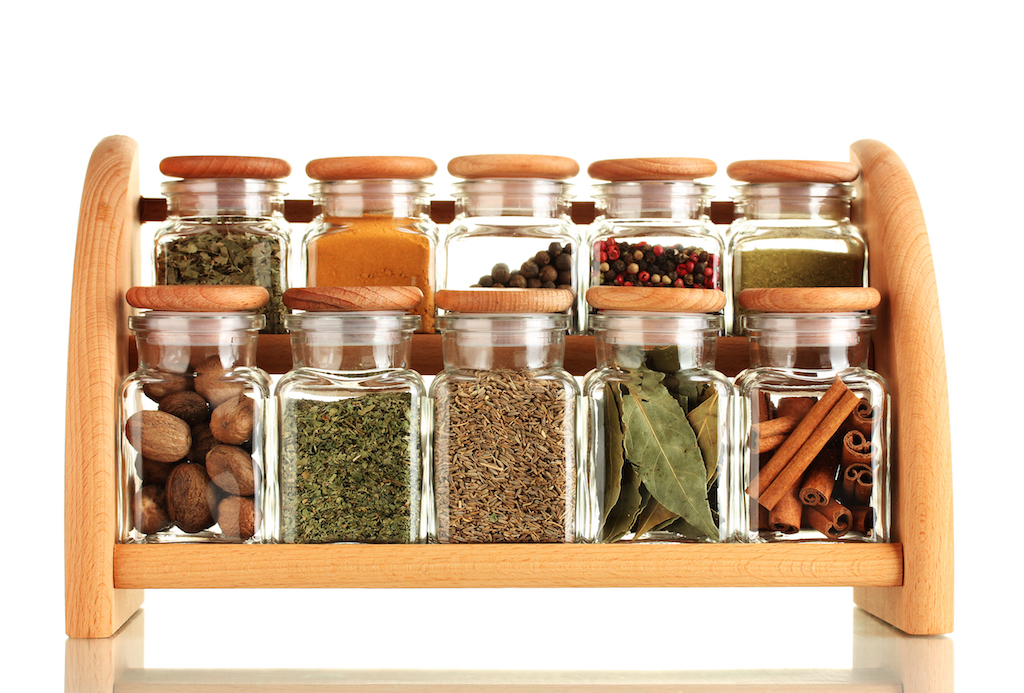 Credit:serezniy iStock
Herbs and spices are best stored in airtight, dark-colored containers in a cool part of the kitchen away from direct sunlight and the heat of ovens and stoves. This will prevent premature aging and loss of the natural oils and, consequently, flavor.
Fresh herbs should be stored in the refrigerator. If they are not used within 2-3 days, they should be frozen, then used as required without thawing.
Usage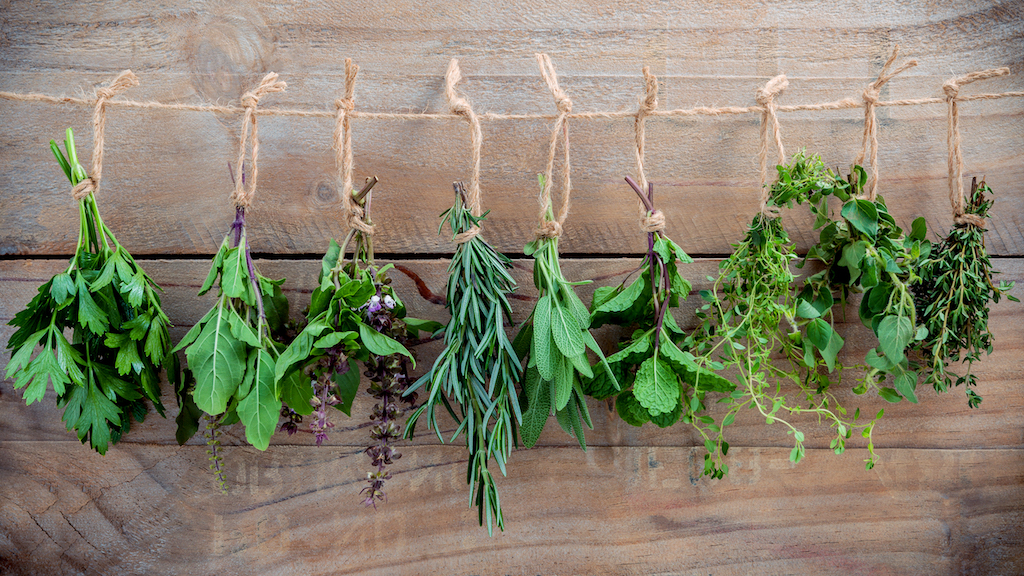 Credit:kerdkanno iStock
To bring out the best flavor, chop or crush fresh herbs just before adding to food. Try using scissors instead of a knife to chop herbs – it maximizes flavor even more. If a more subtle flavor is desired, herbs may be added whole, then removed prior to serving.
When converting between fresh, dried and ground herbs and spices use the following measures of exchange:
1 tablespoon fresh herbs = 1 teaspoon dried herbs = 1/3 teaspoon ground herbs.
Which herbs and spices?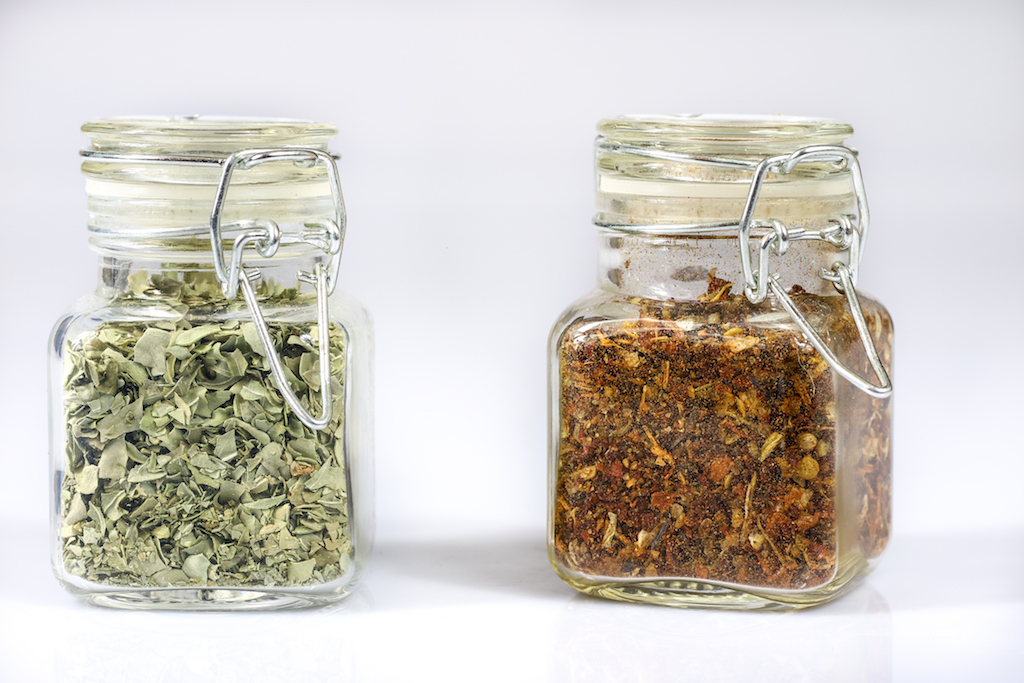 Credit:Piotr Wytrazek iStock
The following guide indicates those herbs and spices which best compliment particular foods, but it's by no means complete! If you're feeling adventurous, try your own mixing and matching and see what new flavors you can come up with.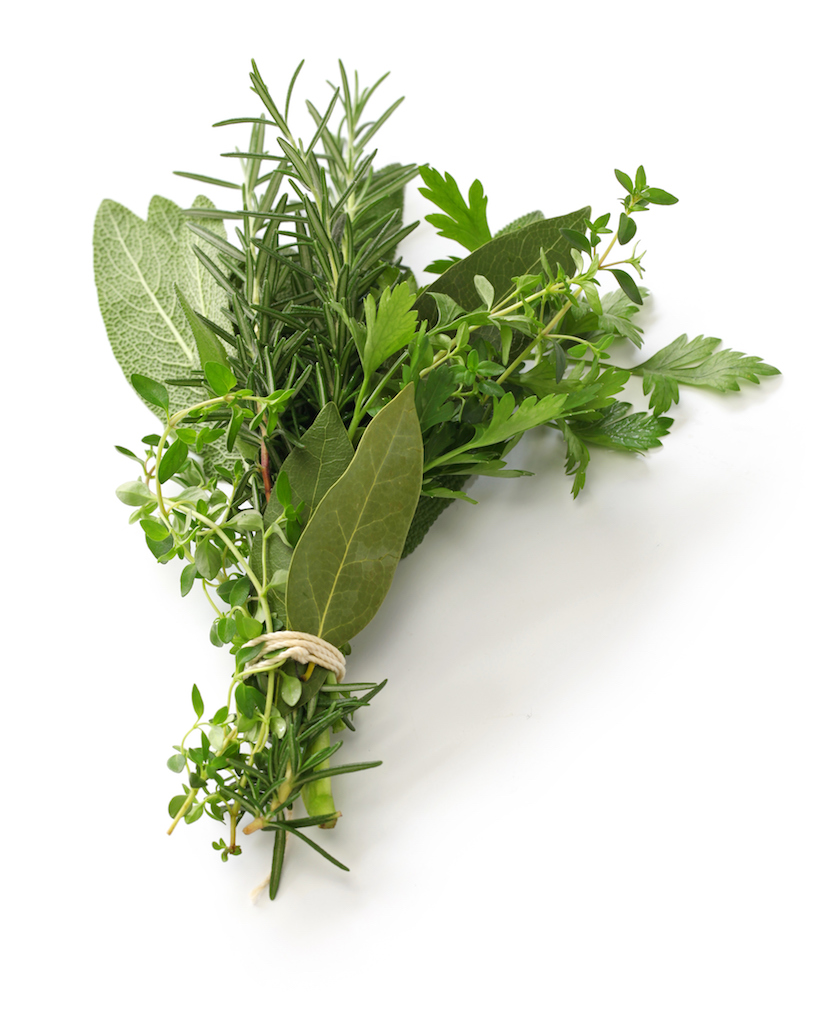 Credit:bonchan iStock
Stock, Vegetable: Bouquet Garni[1], Parsley, Sage, Tarragon, Marjoram
Cheese (Ricotta/Cottage): Chives, Tarragon, Dill, Mint, Parsley, Basil
Eggs: Parsley, Tarragon, Chives, Paprika, Mustard, Basil
Beef: Bouquet Garni, Mustard, Paprika, Garlic, Marjoram, Cumin, Horseradish
Lamb: Rosemary, Mint, Garlic, Sage, Oregano, Marjoram
Pork: Oregano, Marjoram, Sage, Ginger, Cloves, Nutmeg
Poultry: Paprika, Sage, Bouquet Garni, Parsley, Tarragon, Basil
Fish: Oregano, Tarragon, Sage, Fennel, Chives, Ginger
Liver: Thyme, Basil, Bay Leaf, Tarragon, Caraway Seed
Stews & Casseroles: Bouquet Garni, Garlic, Parsley, Sage, Tarragon, Paprika, Basil, Marjoram
Curries: Nutmeg, Saffron, Fenugreek, Coriander, Ginger, Garlic, Cumin, Turmeric, Cloves, Cardamon, Lemon Grass, Chili
Marinades: Garlic, Ginger, Cloves, Cumin, Chili, Mustard
Pasta: Oregano, Basil, Parsley, Garlic
Rice: Saffron, Turmeric, Coriander, Ginger, Cardamon, Cloves
Vegetables & Salad: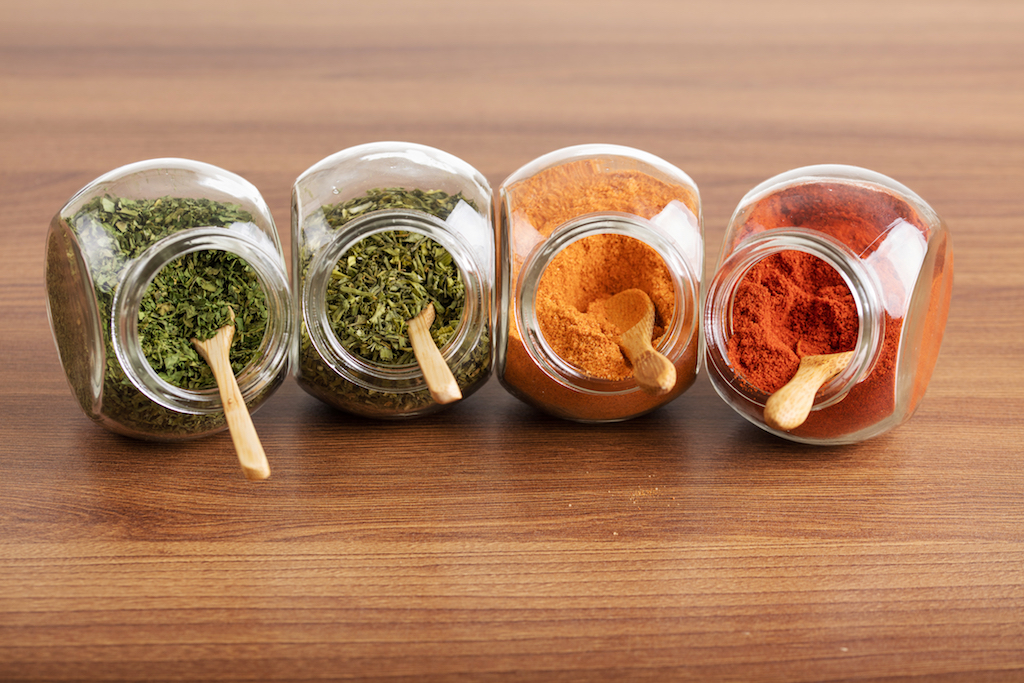 Credit:Piotr Marcinski iStock
Cabbage: Caraway, Nutmeg, Dill, Fennel
Carrots: Allspice, Fennel, Caraway, Dill
Cauliflower: Dill, Tarragon, Caraway, Nutmeg
Cucumber: Mint, Dill, Parsley
Dried Beans: Garlic, Cumin, Chili, Paprika
Green Beans: Basil, Garlic, Dill, Tarragon
Green Salads: Fresh Thyme, Basil, Bay Leaves, Marjoram, Mint
Peas: Mint Sage, Tarragon
Potatoes: Chives, Dill, Mustard, Sage, Oregano, Parsley
Pumpkin: Nutmeg, Fenugreek, Cardamon, Cloves, Ginger
Spinach: Nutmeg, Basil
Tomato: Oregano, Garlic, Basil, Parsley, Thyme
Fruit: Mint, Allspice, Ginger, Cloves, Cardamon
Desserts: Vanilla, Cinnamon, Cloves, Aniseed, Lemon & Orange Rind