The CalorieKing Program For Employers
Bringing the Benefits of CalorieKing to the People You Employ
As an employer seeking to improve the health of your employees, weight control is as important as weight loss. The CalorieKing Professional package includes the CalorieKing Complete Weight-Management System for your employee and an optional online dashboard designed to assist with individual or group counseling by a health professional or coach.
Take a Tour of the CalorieKing Program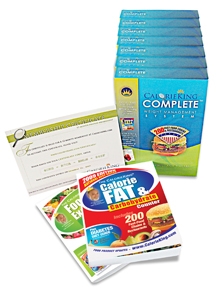 A SPECIAL OFFER FOR EMPLOYERS
As an employer you want the people you advise to have the best tools to help them reach their weight-control goals. CalorieKing membership provides each person you manage with:
You can start with just 10 employees (minimum).
Special offer price: $55.00 per person (37% discount)
Contact us about this offer
The CalorieKing Dashboard
Access to the CalorieKing Professional Dashboard is available when you purchase 10 or more Complete Weight-Management Systems.
The Dashboard gives the health professional or coach instant 24/7 access to employees they're coaching. They can see who is actively engaging in their personalized program, individual progress-to-goal, and where additional follow-up and coaching may be required. With the Dashboard at their fingertips, accountability is not merely a concept; it's a reality.
CalorieKing recognizes your desire as a professional to collaborate and interact with the people whose health you seek to improve. Your support and involvement may be critical to guide them along the best path and ensure they don't veer off course. That's where CalorieKing Pro can prove invaluable. Of course, the power of this tool is not simply the monitoring functionality. It communicates value among those you're coaching that somebody actually cares about how they are doing each step of the way.
The Dashboard provides the coach or counselor with a management system to monitor and evaluate individual and group progress. (Note: Employee must decide whether to opt-in.) Specifically, they can:
View an individual's Food and Exercise Diary
View an individual's login activity to help evaluate motivation
View the group's weight and BMI statistics