Start making the choices that lead to weight control
Whether you want to lose weight, manage your diabetes or improve your health; there are no quick fixes and fad diets don't work. It's your everyday food choices that count. That's where our reliable and convenient guides come in.
2022 CalorieKing Calorie, Fat & Carbohydrate Counter
by Allan Borushek, Clinical Dietitian & Health Educator.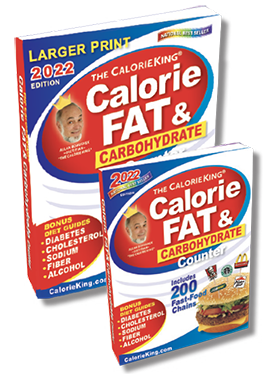 To make the smart food choices that lead to permanent weight control, you must become aware of what you eat on a day-to-day basis. The CalorieKing Calorie, Fat & Carbohydrate Counter is the most accurate resource for calorie, fat & carbohydrate counts.
Take it everywhere; look up foods before you eat, when eating choices count the most! With over 15 million copies sold, this pocket-size guide consistently receives the highest average reader rating of all books of its kind and is recommended by healthcare professionals.
*20% Introductory Discount on 2022 Editions
Larger Print Edition:
$12.99
NOW $10.39
Standard Print Edition:
$9.99
NOW $7.99
*40 book minimum. Free delivery within contiguous US.
For pricing on fewer than 40 books or to place an order, contact us at [email protected]
Features
17,000 food listings, both brand name and generic - researched and regularly updated by our team of dietitians and food researchers.
A "book-within-a-book": Menu items from 200 fast food chains and restaurants - the most comprehensive available, plus a unique Eating Out section that includes international, carnival, fair, stadium, and movie-theater foods.
Useful guides and bonus counters for: Alcohol, caffeine, fat & cholesterol, fiber, protein, iron, and sodium.
Informative reference sections on weight management, plus a section on diabetes co-authored with the world-renowned Joslin Diabetes Center.
Color-coded listings and thousands of photos make it quick and easy to find your favorite foods.

Large Print Edition available.

It has all the information of the pocket-sized book, but is easier to read with its larger print and 5" x 7" size.
Take control of your eating habits today!